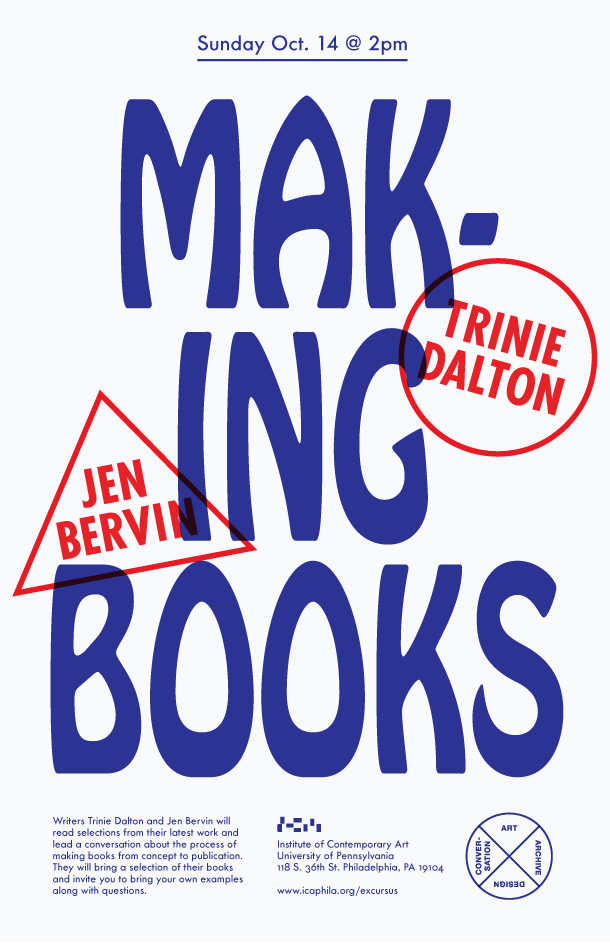 Writers Trinie Dalton and Jen Bervin will read selections from their latest work and lead a conversation about the process of making books from concept to publication. They will bring a selection of their books and invite you to bring your own examples along with questions.
Jen Bervin's work brings together text and textile in a practice that encompasses poetry, archival research, artist books, and large-scale art works. Her books include The Gorgeous Nothings (2012), The Dickinson Composites (2010), and The Desert (2008) from Granary Books, and The Silver Book (2010), A Non- Breaking Space (2005), and Nets (2004, fifth printing 2010) from Ugly Duckling Presse.
Trinie Dalton's books alternate between art projects and fiction, and sometimes combine the two. Trinie's books include Wide Eyed (Akashic), Dear New Girl or Whatever Your Name Is (McSweeney's: co-edited with Eli Horowitz and Lisa Wagner), Mythtym (Picturebox), Sweet Tomb (Madras Press) and Baby Geisha (Two Dollar Radio). She teaches fiction and critical writing at USC, SVA and Vermont College of Fine Arts. She has taught about book/arts, contemporary printed matter, and publication at NYU and Pratt.