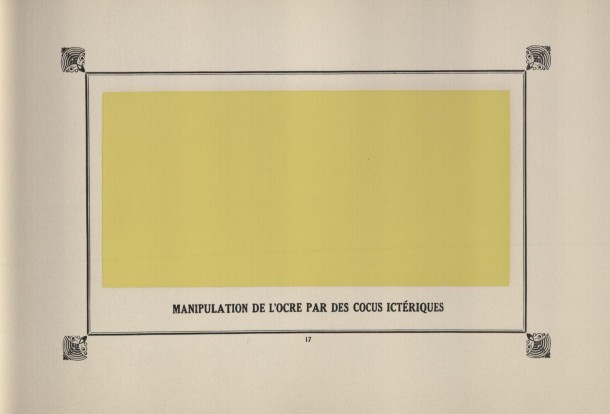 Alphonse Allais, 1897
Alphonse Allais' unassuming little portfolio, the April Fool's Day Album. Allais was a popular humorist around cabarets in Montmatre and hung around with an interesting crowd, the musician Erik Satie being one notable friend. Allais is known for having given Satie the nickname–Esoterik Satie. This portfolio was published several years after his participation in a couple salon exhibitions called Salon des Arts Incoherents in Paris in 1883 and 1884. In these salons, Allais first showed his monochrome compositions that would later appear in this portfolio.
The first section of portfolio contained these monochromes and their titles completed the work:
Blue composition – The awe of the young naval French recruits on perceiving for the first time the blue of Mediterranean.
Green – Some young men known as greenbacks on their bellies in the grass drinking absinthe.
White – First Communion of Anemic Young Girls in the Snow
Red – Apoplectic cardinals picking tomatoes by the shore of the Red Sea.
Grey – Round Drunks in the Mist
The second half of the portfolio contained a curious musical score–a funeral march entitled "Funeral of a Great Deaf Man." The score is blank, completely blank. The gesture is outrageously funny and also, it is hard not to think of it prefiguring essential gestures of avant garde scores of the 20th century–most obviously a work like John Cage's 4'33", etc.
–David Senior